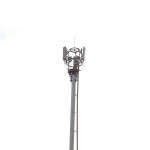 After rolling out telecom towers in Delhi-NCR region since Jan-2014, as 
reported
, Reliance Jio is gearing up closer to launch of its Network in some of its key circles, including Delhi-NCR.  Jio has already partnered with Samsung Electronics for 4G BTS equipment deal last year and till date the only confirmed OEM partner on roll for radio access network aka RAN. Interestingly, for Samsung this is the first of such deals bagged by the company globally and till date, the company hasn't announced any new deals for 4G RAN gears in India with any other Opco.
تعلم كيفية كسب المال من الخيارات الثنائية
As reported by NDTV, although slated to launch network by Sep 2014, we expect Jio would need some more time to rollout its first network. Although Jio has finalized couple of deals for tower sharing infra with other infra players, rollout of LTE (different versions) without support of Voice would mean loss of key revenue. We observed that towers erected are intermittent, resulting into non-overlapping coverage. It simply means that Jio subscribers would move out of LTE coverage & might need to latch on to either different LTE network or GSM or even WCDMA network for voice/data support for seamless experience. We are yet to see roaming deals between Jio and other roaming partners on card.