Aegis Graham Bell Awards celebrated its 8th Annual Grand Award Ceremony!!!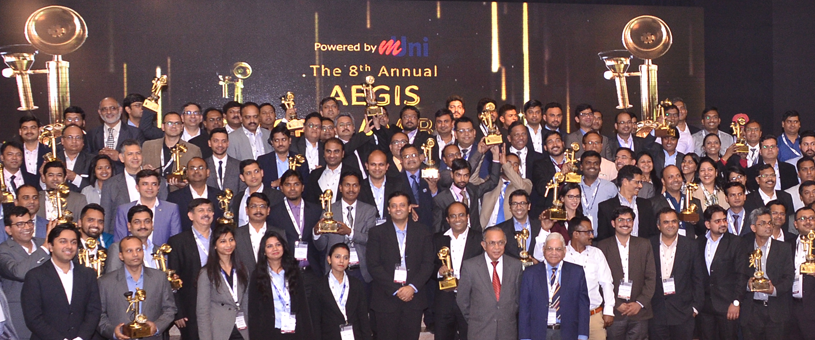 Today, India is generating entrepreneurs and innovators from all communities who are acknowledged and accepted. But until a decade ago there was no recognition, no medium for the innovators to showcase their innovation to the world and that's when Aegis School of Business came up with a platform – Aegis Graham Bell Awards, where the budding innovators and entrepreneurs can be recognised and awarded for their work.
The Aegis School of Business, Data Science and Telecom has established the Aegis Graham Bell Awards as a tribute to the father of the telephony, Sir Alexander Graham Bell. This Award is intended to promote innovation, entrepreneurship in the field of Telecom, Internet, Media & Edutainment (TIME) and Social, Mobility, Analytics, Cloud (SMAC) to provide recognition for outstanding contributions in this field in India.
Aegis Graham Bell Awards 2017 winners
| | |
| --- | --- |
| Nomination Category | Company |
| Innovation in Virtual Reality | Simulanis |
| Innovative Smart City Solution | Ramboll India |
| Digital India Initiative | Narmada Jhabua Gramin Bank |
| Digital India Initiative | C-DOT |
| Digital India Initiative | Tejas Networks |
| Mobile Application for Social Good | Accenture Labs |
| Innovation in mHealth | Wipro Technologies |
| Innovative Mobile TV App | Reliance Jio |
| Innovative Enterprise Solution | Esri India Technologies |
| Innovative Enterprise Solution | Infynium |
| Service Innovation | Airtel |
| Innovative Managed Services | Ramboll India |
| Innovation in OSS/BSS | Teleossco Software |
| Innovative Telecom Product/Solutions | Vodafone India |
| Innovative Telecom Product/Solutions | Sterlite Technologies |
| Innovation in Telecom Product/Solution | Huawei & Airtel |
| Innovation in Telecom Product/Solution | Huawei & Airtel |
| Green Telecom | Neron Informatics |
| Innovation in Telecom Infra | Huawei & Airtel |
| Innovation in Telecom Infra | Huawei & Airtel |
| Innovation in Telecom Infra | Parallel Wireless |
| Innovation in Cloud | NIIT Technologies |
| Innovation in IoT | Stellapps Technologies |
| Innovation in IoT | IBM India |
| Data Science | NIRAMAI Health Analytix |
| Data Science | Locus |
| Data Science | Lymbyc |
| Data Science | Reliance Jio |
| Data Science | HCL Technologies |
| Data Science | Subex |
| Cyber Security | Lucideus Technologies |
| Cyber Security | Cisco |
Dr Jena, Deputy Director General of COAI, who has been responsible for promoting telecom innovation in institutes of higher learning like IITs and founder of Telecom Sector Skill Council, said "I complement Aegis Business School for hosting the platform that encourages start-ups and entrepreneurs in ICT sector. Being a part of the Jury, I have witnessed participation of very high-quality innovations that are extremely useful for the transformation of the telecom sector into the next level of the data-driven world. I congratulate all winners and wish their innovations to reach their target users at the earliest."
Mr Abhishek V, Partner Deloitte said, "Its indeed great pleasure of Deloitte to be associated with Aegis and I congratulate Aegis Graham Bell Awards for such a great platform. I congratulate all the winners, as well as nominees for getting nominated in itself, is a win."
Commenting on the Awards, Mr Bhupesh Daheria, Trustee, Aegis Knowledge Trust, Founder and CEO, Aegis School of Business, Data Science & Telecom, mUniversity, Aegis Graham Bell Awards & Data Science Congress said "I congratulate all the winners for their break-through innovative products/solutions at the 8th edition of the Aegis Graham Bell Awards. We are beaming with pride after applauding the winners. Going forward we welcome more innovations which will contribute to our mission to make India a nucleus of innovations."