Essential SEO tips for successful SEO Campaign!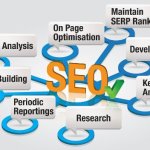 SEO is important and a large number of online businesses, regardless of their size, are using SEO techniques to reach on the top pages of Google. Business owners today are more aware of the need of SEO for their websites and that is the reason why they are using either the services of a professional SEO agency, or implementing the basic Search Engine Optimization techniques. Numerous tips and tricks are available on the website, but if you read a variety of articles and blogs, you will realize that there is a lot of uncertainty over what is 'essential.
In this article, we have mentioned the proven SEO techniques that are needed for a successful essential SEO services. These strategies may seem obvious at first but most people find it difficult to make the most of such strategies because of lack of understanding.
Content
One of the most talked about factors, yet most SEOs fail to do justice while sharing SEO content. Regardless of whether you are sharing content on social networking sites, creating website content or SEO articles, it is important to provide the right type of information to your readers. Content not just helps you build a brand image; it becomes one of the most important reasons for people to come back to your website.
Do not use same content on two website pages, or syndicate articles. Post the latest news that is affecting your target market and industry and be the first one to share the information. Re-writing articles shared by others won't do any good to you. Research well but always aim to create a fresh post. You must also make sure that the content is relevant to your business or website.
Aesthetics
Just because there are free website tools available does not mean that you can design your website and improve investment returns. Instead, it is advisable to hire a professional company or designer who can create a customized website for your business. In order to get customers' attention, it is important that your website looks appealing, simple, user-friendly and professional.
Accessibility
There are two different ways of managing accessibility of a website.
It must be readable across different devices and platforms.
Navigation of the website.
Make sure that all the links are displayed prominently, are recognizable and are labeled effectively. Apart from that, it is also important for you to provide your readers with a site map. You may also put a search option within the website.
Keywords
SEO survives on keywords, hence, it is important to look for targeted keywords and use them well in your SEO campaigns. Always invest in high-quality keywords, look for keywords that have high and low competition prospects and use keywords only when required.
Monitoring
Monitoring an SEO campaign is important. Keep in mind that it is important to modify your SEO campaigns occasionally. SEO algorithms are changing, which makes it important for you to ensure that your campaign is created according to changing SEO trends. Check the consistency and monitor your marketing campaign on a regular basis for maximum results.
Final Thoughts
Use the above-mentioned strategies and you will be on your way to the top of Google in no time. Before creating an SEO campaign and using the strategies mentioned above, you must also keep in mind that SEO is a slow process, which may take a few months to show desired results, hence, be patient!
About Author: Shalini  is a passionate writer, who has written various interesting articles on technology niche for various websites.She loves to write about technology and marketing.