'Gammat Jammat'- Vodafone's new initiative to make aware Rural School Children about Mobile Internet!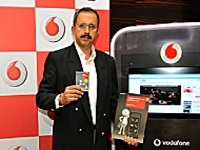 Vodafone India, one of India's leading telecommunications service providers, today launched 'Gammat Jammat', a unique initiative aimed at building awareness on the benefits of mobile internet amongst school children in the rural districts of Maharashtra. The initiative is part of Vodafone's strategy to democratize data and drive adoption and usage in the rural heartland of the State.
Starting today, a Vodafone 'Gammat Jammat' team will tour 118 identified villages in interior Maharashtra, over a period of three months. The initiative aims to engage with students from 118 schools and junior colleges and to educate them on the relevance of mobile internet and how it can transform lives with vast opportunities.
Addressing the media at the launch of this new initiative, Ishmeet Singh, Business Head – Maharashtra & Goa, Vodafone India said, "We see immense growth potential in Mobile Internet and are exploring options to further accelerate mobile data adoption through penetration, consumption and value addition. Various industry studies indicate a spiralling growth in sales of smartphones, particularly in locations beyond the metros. However, this community is still largely unaware on how they can get the best out of their data enabled handsets, through mobile internet. Vodafone 'Gammat Jammat' is one of the several initiatives we are implementing to democratize data and demonstrate its relevance to the lives of rural audiences. It is an effort to empower the school children in ruralbelt of the State
Vodafone will conduct engagement sessions with over 300 students in each school. The session will educate the audience through an interesting and informative audio visual film that will help them understand how internet can simplify their lives. It will be followed by a live demonstration on a six feet giant handset on basic internet applications like managing your email account, internetsearch engines, booking train / bus tickets online, getting information on global career options etc through the internet. A special Internet training modulehas been developed for this programme. At the end of session, each student attending the session will be given a certificate attesting successful completion of the training module and a guide book on internet applicationsthat are relevant and useful to school students.
To supplement the 'Gammat Jammat' programme, Vodafone will host 'Chala Bhetuya' camps at Vodafone Mini Stores across the same 118 villages to familiarize adults with the applications of the internet.
A special 'GammatJammat Pack' has been launched by Vodafone especially for rural consumers, whereby subscribers can get 200 MB of Internet usage with 1 month validity for just Rs.32, inclusive of freetalk time worth INR 10.Subscribers to this pack will get a free 30 page bookletcontaining basic information onsome key internet applications and websites that are relevant to rural customers. It has separate sections and applications catering to the requirements of Youth, Farmers, Jobseekers, Housewives and Businessmen.
As part of its strategy to democratize data, Vodafone has been hand holding customers to use mobile internet and educating current and potential users about how internet can add significant value to them. The company is also building content partnerships, simplifying pricing, educating retailers and offering choice to customer basis their interests and consumption patterns.