Guest Blog: Home Automation, Control & Security- Past, Present & Future Ahead!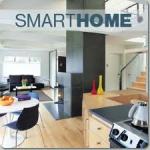 Like any other technology, HACS (Home Automation, Control and Security) has evolved over the time to an extent where it is relatively much smarter, easier to use and easier on the users' pockets. It certainly has a long way to go though because technological evolution is a complex process and mass acceptance comes with time. Automation wasn't always capable of impacting people's life but it now is due to the revolutionary developments in communication technologies and a penchant for increased efficiencies. Today's homeowner is really keen on experiencing the savings, safety, comfort, control and convenience that a smart home offers with its tightly interconnected security, lighting, air-conditioning and audio-video systems.
The market shift to lower pyramid begun quite a while ago and HACS doesn't fall only into the luxury segment anymore. OEMs and solution providers realize today that the dough is with the mass-audience with higher volumes and lower margins. Aggressive effort for efficiencies and value which mass markets typically steer has played as a chief driver of automation and control advancements. According to MarketsandMarkets Research, the global HA and control systems market is estimated to grow at a CAGR of 16.1 percent from US$16.9 billion in 2011 to $35.6 billion in 2016. Also, the total number of automation systems is expected to be over 4 million units by next year according to ABI Research by next year. Apparently, there are some key trends reshaping this marketplace that will be increasingly noticeable over the next few years. Most of these would apply mainly to the mass market because that's where the real big potential for growth lies. Luxury market may not necessarily yield to such trends and will exhibit a more consistent pattern, diverse from the mass.
DIY and Plug n Play Ease
The inclination towards simplicity and ease is not new. The reason why some of the oldest security systems, for instance, have managed to survive over three decades is that they are frills-free and extremely easy-to-use. Any the player who stands a chance of staying on long enough realizes that 'simple and easy' is the way to go. This is perhaps the most prominent trend that our generation will witness. Systems and solutions are getting increasingly interactive and simple to use with Smart Apps, plug & play components and DIY installation options. Though end users are gradually becoming more tech-savvy, mobile and omnipresent, 'ease' will remain as their buzzword. Anything that is capable of making their lives complex is going to be extinct sooner or later and conversely, simpler but smarter products and solutions will rule the market.
Dedicated to Off-the-Shelf Control
The present and future of communications is convergence and how a homeowner prefers to communicate with his HA system also follows the same rule. Dedicated controllers are stand-alone and disintegrated; and it is much preferable from lifestyle and convenience perspective to let the new consumer electronic devices also act as sophisticated controllers instead. Distribution of entertainment content has already started over IP and this seems to be a great medium for controllers to merge into as well. So, home control through remote on TV screen seems to be getting huge popularity moving forward. At least in the mass market dedicated controllers and touch-screens will soon be replaced by such converged and interactive platforms. The commercial, luxury and corporate segment may accommodate them for longer so they won't vanish completely but will be seen lesser.
Remotomation: Automation over IP
Consumer had always to make a choice between complete security and total freedom; this was a big challenge in the Smart Home industry. Not anymore! Automation and control are fast moving to Cloud, Android and your home-entertainment devices through IP. End-users are excited about being able to remain virtually inside their house, although they may be at just any location around the world. Like they say, 'IP is Geogra-free' – it allows boundless access to a homeowner who can now take full home control through PC or a smart mobile device feeling safe and free. On industry level too, there's another pattern that IP-potential seems to trigger. Remote automation can substantially decrease subscriber churn and increase ARPU (Average Revenue per User) so more and more broadband, communication and entertainment service providers will ride the HA bandwagon, expanding the market thereof.
Convergence, Convergence, Convergence
This is the chief underlying trend not only in smart homes but also across building technologies and overall automation, control and security segment. Moving forward, most components and devices will get not only self-contained but also converged and integrated. For instance, newer technologies such as Near-Field Communication are enabling consumers to use their mobile devices as access cards. Mobile manufacturers have already started incorporating NFC functionalities in the latest devices and it won't be late before you will see hundreds of apps based on technologies like this. Home owners and employees alike will use their smart phones to get access both at home and work. With advancements in technology, the industry will witness increasingly converged and integrated patterns.
Security: First things first
For obvious reasons, surveillance and security will keep enjoying tier-I status in HACS industry across all segments. However, line between security and automation systems will keep blurring as can be seen from the current trend. Integration of all key smart home functions into a low-cost, high-end, self contained and easy-to-use system is being driven by RMR motivation. Bigger chunk of mass market will still tend to look at it as a reliable and flexible security solution for their homes with the irresistible bells and whistles that make it a turnkey offering and thereby driving market penetration. So the edge will be with vendors who have solid competence in security market and enjoy high repute.
About the Author:

Asheesh Pandia is a distinguished Brand Management and Corporate Communications consultant with around a decade of cross-industrial exposure and has been extensively published & exclusively featured in some of the best international publications. He currently drives brand management for Tyco International (EMEA Region) and also provides brand and communications consultation to several MNCs especially on elevating and differentiating their brands. The author writes independently for numerous publications across Asia-Pacific, US/Canada and co-chairs many professional Canadian communities and non-profit organizations