Handygo plans to invest Rs 120 Crore for penetration of 'Behtar Zindagi' services in Rural India!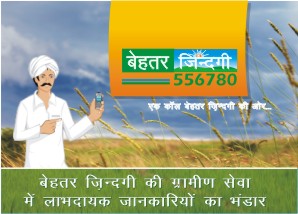 Leading Value Added Services (VAS) provider handygo Technologies Pvt. Ltd today announced its investment plans for 'Behtar Zindagi' – its unique mobile based service for farming and allied communities across India.
Handygo Technologies will be investing approx Rs 120 crore in the span of next 12 months across 6 states in India. Through this activity, Behtar Zindagi is expected to reach out to approx 1, 00,000 villages across 6 states in India. The Company intends to strengthen the processes and infrastructure, initiate tie ups with various Government and Non Government bodies, soil and agricultural research institutes and educate the rural masses for leveraging the application for the betterment of their lives. The service which was launched in 2009 is available in 18 regional languages, with already more than 1.67 million subscribers across the country. The salient points of development are:
Leading VAS and mobile entertainment solution provider, handygo Technologies has once again pioneered in reaching out mobile subscribers of Rural India by launching its unique 'User Connect Campaign' for Behtar Zindagi. The company also shared its investment plans and objectives for the same.
After successfully launching this activity in Rajasthan, Handygo will be conducting a mass awareness drive through mobile vans & other promotional activities that will reach out to customers of all the villages in Maharashtra, Punjab, Karnataka, Andhra Pradesh and UP.
Encouraged with the appreciation received for the activity in Rajasthan, handygo Technologies seeks Government support to make this campaign successful and more beneficial for rural sector.
This innovative service has empowered mobile customers (specifically across rural parts of the country) with the ability to use their mobile phones to receive comprehensive information and updates on a wide range of relevant topics including weather updates, Mandi rates, live stocks, agriculture, fisheries, health, education and finance.
The company had launched the product foreseeing the informational gap within the community, which led to inaccessibility to valuable information regarding agricultural advisory, market rates, weather scenario etc. The service has managed to bridge the gap by a significant margin. The increase in minutes of usage in the last six months is a testimony of this fact. The company is also planning to come up with a GPRS application in the near future.
Handygo Technologies also provides sessions to support the Behtar Zindagi subscribers with an aim to sensitize them with the happenings around and educate them about the usage and scope/benefits of using the service for enhancement of their yield, to enhance their living standards and to get real time update/responses to their queries. These sessions were taken during the various ground activities pursued, which included agricultural & rural fairs, farmer's exhibitions, VAN promotions, contests, associations with local NGOs, announcements through community radio, distribution of free physical coupons, etc across different areas and districts in the state.
The 'Behtar Zindagi' service is available to farmers 24×7 and 365 days a year. To use this service, any mobile customer can dial 556780 (toll free) and avail the subscription pack for a period of 30 days for Rs. 30 only. As a 'first-of-its-kind' service in the Indian telecom industry, this service supports a wide range of dialects and is available in Hindi and 17 other regional languages.
Announcing the achievement, Mr. Praveen Rajpal, CEO, handygo Technologies, said, "The response that 'Behtar Zindagi IVR' has received is phenomenal. Since the day of the launch in 2009 to this day, we have successfully addressed to queries from over 1.67 million subscribers, which no other MVAS developer has been able to achieve till date. Our services have been subscribed to by all the major green field operators who have leveraged the same to reach out to their rural target audience. We have invested more than 100 million and we will continue to strive hard to accomplish our objective for providing a much better life to the people in rural India, however government role is very crucial in fulfilling our dreams of Better India."
He further said, "We want Government as well as state government to come forward and support us in this social cause and contribute in the betterment of our Rural India. I am optimistic that sooner or later, government will surely recognize our sincere efforts and do the needful".
To ensure A-grade quality information, Handygo has joined hands with various private and government bodies(including Indian Meteorological Dept, Indian National Centre for Ocean Information Services, CARE, CAB International and more) to collate relevant information and organize its dissemination to farmers using region interactive voice as medium supported by voice and text messages.