Happy B'day Google!- A Pictorial tribute to the company, which changed our life!
During first month of year 1999, Google has already moved its own domain, but remained affiliated with Stanford University. This can be easily seen below. In fact, Google was still a Stanford University Lab Product.
On 21st Feb 1999, 'Google' logo has appeared first time in today's form, though in beta form. In fact, this was the first time, Google has come out of the shadow of Stanford labs, to find its own identity.
Yahoo! The Best Search Engine of year 1999–    Google has acknowledged 'Yahoo' as Internet's best search engine. In fact, this was shown up on 'Google' webpage- that too officially! Rare but nasty! Google has also gone mobile with availability of search for WAP Phones & handheld PDAs at the same time. This was in Apr 2000.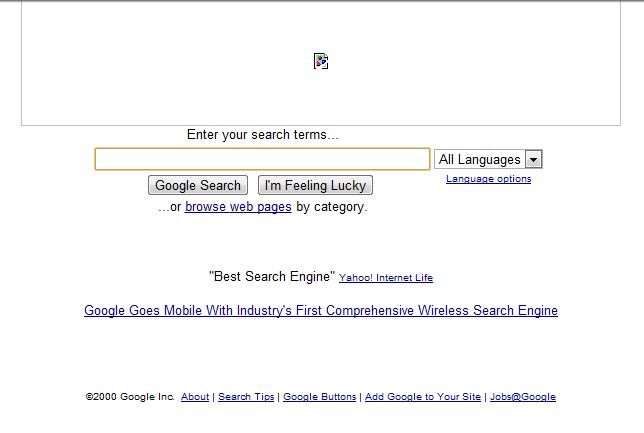 By July 2000, Google indexed more than 1060 million or 1 billion pages.  On June 26, 2000, rival  Yahoo has tied up with Google to provide search. It's start of one era & fading of another era!
SANTA CLARA, Calif. and MOUNTAIN VIEW, Calif. – June 26, 2000 – Yahoo! Inc. (Nasdaq: YHOO) and Google Inc. today announced they have entered into an agreement that makes Google, one of the fastest growing search engines on the Web, Yahoo!'s® default search results provider. Under the agreement, Google will provide its underlying Web search engine to serve as a complement to Yahoo!'s popular Web directory and navigational guide (www.yahoo.com). Yahoo!, a global Internet communications, commerce, and media company, expects to integrate the services within the next 30 days.

"Our Web directory and navigational guide is critical to the essential set of services that we provide to those who use Yahoo! as an important part of their daily lives. Yahoo! is focused on meeting the needs of these individuals by providing them with high-quality, relevant search results," said Jeff Mallett, president and COO of Yahoo!. "Yahoo! selected Google because they share our strong consumer focus. Google has clearly demonstrated its ability to scale with the rapid growth of the Web, making it a particularly good match for Yahoo! as we continue to expand our global presence. We are very pleased by this agreement."
In fact, after joining hands with Yahoo, Google has boasted to have more than 1 billion webpages indexing & said to become Internet's largest search engine till date.
MOUNTAIN VIEW, Calif. – June 26, 2000 – Google Inc., one of the fastest growing search engines on the web, today announced it has released the largest search engine on the Internet. Google's new index, comprising more than 1 billion URLs, offers users the web's most comprehensive collection of websites, which can be easily searched with Google's fast and highly relevant search technology. Available now at http://www.google.com, Google's portal and destination site customers can also license this new index for integration with their own websites.

Google's new index is the first of its kind and represents the most comprehensive collection of the most useful web pages on the Internet. According to a recent survey conducted by the NEC Research Institute, there are more than 1 billion web pages online today. Google now offers users the ability to search almost all of this content, providing access to 560 million full-text indexed web pages and 500 million partially indexed URLs. Integrated with more than 70 portals and destination sites worldwide, Google's award-winning search technology will soon power more than 30 million searches per day on Google.com and its partner websites.
Launch of Google Adwords: In Oct 2000, Google launched its much famous AdWords advertising program in BETA form. Though, I couldn't get details of launch at that time, what I could easily see the attempt of Google to build strong & sustaining revenue stream.
By Mar 31, 2001, Google has already indexed more than 1.4 billion pages- the largest by any standard. It also started wooing non-English speakers by providing search results translation into native languages.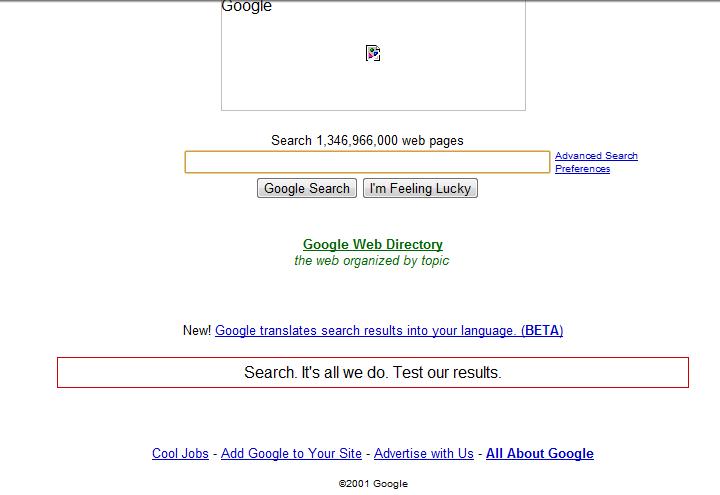 In second week of Sep 2001, after the attack on twin towers, Google has posted condolences to victims of attack. You could also spot start of 'Google Groups' at the same time.
Though there's not much in between, except small developments over year 2002, Google launched much controversial 'News' in Oct 2002.
By June 2003, Google has already indexed more than 3 billion web pages, 12o times of its initial search base in year 1999.
On Apr 1, 2004, Google launched it much famous invitation only email service 'Gmail'. It's first of its own kind service offering 1Gb of free storage space, which was 20 times more than nearest competitor offerings.
By May 2004, Google has launched its much hyped service 'Froogle'. Directory search has gone & replaced by much advanced & familiar term 'More'.  The search engine has already indexed more than 4 billion pages by the same time.
Many developments at Google after year 2005 are well documented. We could trace the launch of Maps & many other features during coming years.  In Aug 2006, Google has launched its famous Video Service 'Youtube', though it appeared as part of Google search at that time.
History is always interesting to read. Companies like Google has always made our life bit easier than yesterday. So be it Youtube or Chrome or iGoogle or bringing search to more personalized level. Google has always maintained that it has come long way from its earlier 'Search Only' vision to 'becoming Internet's knowledge hub'. Birth & acquisition of Android has changed game a lot.
Today, when I sit at my desk every morning before I start my day, I logon to Google domain & do multiple things simultaneously. Be it checking emails, searching maps, scrolling Youtube or evening reading news, I'm entirely dependent on Google now. Life becomes standstill without Google. I think, same is true for many readers of this post. For me, Internet has become synonymous to Google. Though readers may disagree to some extent, no one can deny the growing influence of 'Google' over our lives.
Google- Many Many Happy Returns of the Day!
( Some of the logos of Google couldn't be trace back due to failure of 'Robot.txt. Inconvenience is regretted.)
(All terms mentioned in post are Copyright TM of Google Inc)