Tech Mahindra Wins Pegasystems 2013 Partner Excellence Award!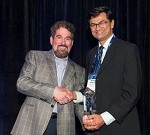 Tech Mahindra Limited, a specialist provider of connected solutions to this connected world, today announced that it has won "Best Sell With for Customer Success in Manufacturing" at the recently concluded PegaWORLD 2013 event.
The Pegasystems Partner Excellence Awards recognize partner organizations for their ability to use Pega to help drive extraordinary customer success. Pegasystems' alliance partners combine their business expertise and industry insight together with Pega's award-winning products and solutions to help deliver rapid returns on investment. PegaWORLD 2013 showcases industry-leading enterprise success stories from customers and partners who have used Pega's BPM and dynamic case management for customer engagement and CRM transformation.
The award is a fitting accolade to the Tech Mahindra and Pegasystems partnership, which developed and delivered a global warranty solution for a Fortune Ten manufacturing organization. The solution implementation resulted in over $5 million cost reduction, as it helped reduce warranty spend, IT infrastructure costs and facilitated claims processing for dealers.
"This Best Sell With for Customer Success in Manufacturing award recognizes Tech Mahindra's strong expertise in providing solutions to their clients that deliver measurable results," said John Barone, Vice President of Global Strategic Alliances, Pegasystems.  "Their commitment to supporting our vision for Pega's solutions which help deliver innovative and transformational benefits has been impressive, and we congratulate them for this significant achievement."
"We are proud to have received this prestigious award from Pega. It speaks volumes about Pega's technology and Tech Mahindra's domain experience, customer orientation and capability to deliver excellence to the customer." Sriram Krishnan, Senior Vice President, Tech Mahindra.
Tech Mahindra and Pegasystems have been developing a number of notable projects, such as cross vertical solutions for Continuous Working Capital Reduction, Asset Consolidation, Decision Management, Order Management and Service Lifecycle Management.
Tech Mahindra has been in the forefront addressing issues enterprises face with the advent of new media platforms, such as mobile and social. The solutions, Location based Intelligent Mobility Solution and Social Media for a Smarter Enterprise, are meant to enable enterprises to harness the full potential of these platforms.
The future strategy of the Tech Mahindra and Pegasystems global strategic alliance is to develop and go to market with enterprise solutions in the BPM and CRM spaces that attain maximum synergy across a number of industries.